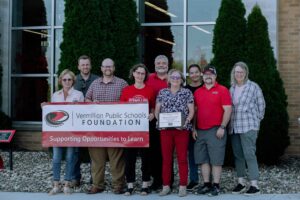 From left to right: Joanne Ustad, Andy Schulz, Dan Mourlam, Katharina Wymar,
Chuck Lubbers, Mary Giffin, Jo Nesmith, Collin Lind, Melissa Berninger. 
Not Pictured Liz Franken, Sarah Wittmuss, Tim Schorn.
My name is Dan Mourlam and I'm an Associate Professor and Chair of the Division of Teacher Residency and Education at the University of South Dakota where I teach educational technology and teaching methods courses to aspiring teachers.
I'm originally from Iowa where I attended both Iowa State University and the University of Northern Iowa earning degrees in History Education, Curriculum and Instructional Technology, and Curriculum and Instruction. I am a licensed teacher in the State of Iowa and have previously worked as a teacher and technology coordinator in the Cherokee Community Schools in Cherokee, IA. I live in Vermillion with my wife Katie, and our three children who attend the Vermillion School District.
As a first generation college student and the first in my family to pursue a career in education, I have a passion for public education and ensuring that children have the opportunities necessary to reach their full potential in life. Public education is a foundation of our society and I've dedicated my career to advocating for our students, our teachers, and our schools. I'm excited to continue my advocacy as part of the Vermillion Public School Foundation.
I am an Associate Professor of Political Science and Director of the International Studies Program at USD and have lived in Vermillion since 2001. My son, Kamil, is a student at VHS so that is one of the reasons I'm especially interested in working with the VPSF. My undergraduate degree is from Mt. Marty in Yankton, and my graduate/professional degrees are from Notre Dame and De Montfort University (Leicester, UK). I'm pretty darned passionate about education and making experiences outside the classroom available to all students.
I grew up in Vermillion and graduated from Vermillion High School.  After living away for 20 years working in business and education, we returned to Vermillion.  I received my masters in Educational Technology, and worked for seven years at Vermillion High School implementing state initiative programs and teaching business and computer classes.  Currently, I am the church administrator at the United Church of Christ, Congregational.  My husband and I have four sons and 9 grandchildren, of which only a fraction live close by, so we love traveling to visit them as often as we can.  I believe the Vermillion School district is one of the best and will work to make sure it continues to be so.
I was born in Vermillion and had the privilege of going through the Vermillion Public School System. I received my Bachelors from Purdue University's Krannert School of Management and subsequently moved to Germany. After being self-employed for many years, I started working in the banking industry where I ended up in project management.  In 2017, I moved back to Vermillion. I work in IT at the University of South Dakota as a PMO manager.
Education has always been important part of my life. I come from a long line of educators so it only seemed natural that when my children were younger, I volunteered in elementary reading and English as a second language programs. I also completed graduate work in linguistics and received a Diploma from the Open University in the UK.  I have two sons, Armand and Emile. I look forward to working with the rest of the Board to support our Vermillion School District.   
My name is Charles (Chuck) Lubbers, and I am a professor in the Media & Journalism Department at USD. I am a first-generation college graduate in my family and have degrees from SDSU and the University of Nebraska-Lincoln. I grew up in Yankton and graduated from Yankton High School. My wife, Brenda Fergen, and I lived in Lincoln, NE, Kansas City, MO and Manhattan, KS before coming to Vermillion in 2005. All of our children attended and graduated from the Vermillion Public Schools.  I am very interested in working to maintain the excellence in the Vermillion Public Schools and ensuring that all the students in the system have access to the wonderful opportunities available.
I am the Director of the Honors Program at USD, where I also serve as the coordinator for nationally competitive scholarships. I grew up in Cincinnati, Ohio, and earned a BA in English from Wittenberg University, an MA in English from Penn State, and an MS in Library Science from Long Island University. Our family moved to Vermillion in 2018 from Brooklyn, NY. For over 20 years I worked at Long Island University Brooklyn, where I taught composition and literature and got experience with assessment and strategic planning. We love living in Vermillion, and our son has had a great experience at the Vermillion schools.
My name is Liz Franken, and I am a pediatric occupational therapist for Theratime Inc. I serve children and families through early intervention, school-based and outpatient occupational therapy. I grew up in Lincoln, NE, earned a BA in Biology from Augustana College and served as an assistant director of NeSoDak for Lutherans Outdoors in South Dakota before moving to Burbank, SD to earn my MS in occupational therapy from University of South Dakota. My husband, AJ, and I then moved to Pierre where I worked as an OT for the Pierre School District. In 2018, we moved back to Vermillion with our two daughters, Vera and Etta, who attend Vermillion Public Schools. Currently, I enjoy volunteering at Austin Elementary and look forward to working with the Vermillion Public Schools Foundation Board to provide support and opportunities for all students.
I am a native of Yankton and, as a third generation Coyote, received both my undergraduate and law degrees from USD. My husband, Alan, is also a Coyote. Our children, Ella (USD sophomore) and Theo (VHS sophomore), have benefitted from many wonderful teachers at Austin, Jolley, VMS, and VHS.
At USD, I coordinate Supplemental Instruction & Tutoring and teach as an adjunct instructor in Political Science/Criminal Justice. Previously, for many years I served as director of an office supporting co-curricular programming such as service-learning, study abroad, and undergraduate research. I have volunteered extensively in VPS school classrooms, PTO, Junior Achievement, and VHS music. Alan and I have many teachers in our families, and appreciate the power of public education. I am excited to help grow the opportunities for students and teachers through the VPSF!
I have lived in the Vermillion School District since 2011.  The past few years I have been substitute teaching within the District at all 4 schools.  Prior to that, I was the Business Manager for Curry Seed in Elk Point.  Other positions that will help me in this new role are Grant Writer/Grant Administrator and Adjunct Professor of Accounting at WITCC and Morningside University.  I also have been a volunteer Treasurer with a variety of charitable organizations.  I have a Bachelors Degree in Accounting from Morningside and an Associate Degree from WITCC.  I passed the South Dakota Certified Public Accountancy exam before I graduated college.
I was the first in my family to earn a bachelor's degree.  If not for organizations like this foundation, I would not have had the educational opportunities that I did.  I am passionate about providing opportunities for ALL students.
My Husband is the Maintenance Foreman for the Lewis and Clark Regional Water System in rural Vermillion.  We have 2 children and 4 grandchildren, 3 Saint Bernards, a mini horse and a goat.
My Name is Damon Alvey and I am the superintendent of Vermillion School District. My wife Linda is the cheer coach in Vermillion, and we are active in the community. It is a pleasure to work with VPSF as they focus on the betterment of the district by providing resources and time to develop programs and experiences for our students and staff. The board has been instrumental in ensuring that Vermillion School District has access to grants, professional services, and other initiatives that help make our district special.