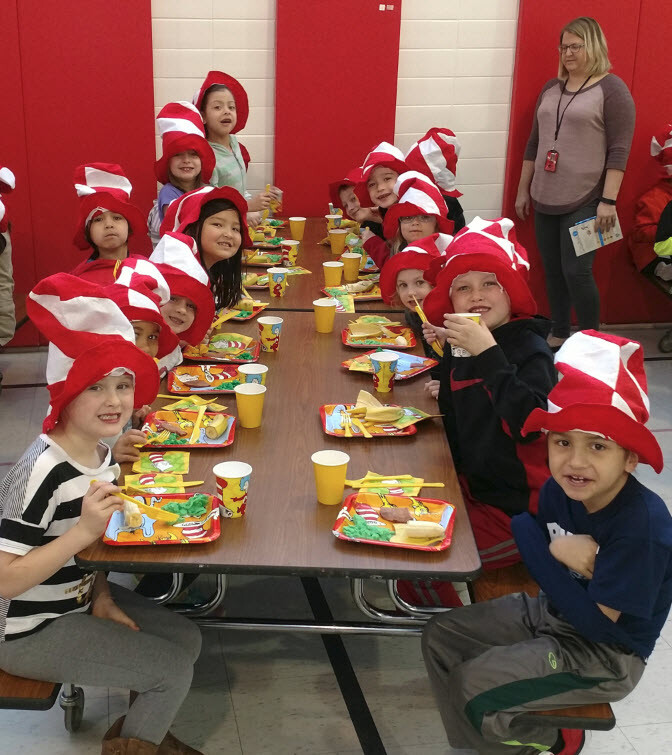 Austin Elementary first-graders, teachers, parents and volunteers celebrated Dr. Seuss' 113th birthday Thursday, March 2, 2017. The students enjoyed, for the most part, their green eggs and ham while wearing hats fashioned after The Cat in the Hat.
The celebration, which coincided with the National Education Association's 20th annual Read Across America Day, involved classes reading aloud and some teachers dressing up as Dr. Seuss characters. The Vermillion first graders ate their meal while listening to a reading of "Green Eggs and Ham" by Beth Knedler, Youth Services Librarian at Vermillion Public Library. Each student received their own book to take home
Thursday's 3rd Annual "Breakfast with Dr. Seuss" event was locally sponsored by the Vermillion Public Schools Foundation. Mr. Smith's of Vermillion provided the breakfast, which was served in the Austin Elementary gymnasium by members of the Foundation. The Vermillion Public Library staff also assisted. Vermillion Rotary and Edith Siegrist Charitable Trust provided financial support for the event.